Studies have shown that patients will frequently delay seeking healthcare due to fear of discrimination. This had led to worse general and mental health among transgender adolescents and adults.
There are many easy changes you can make in your office setting to let LGBTQ patients know that it is a safe and welcoming environment.
Visibly post a non-discrimination statement.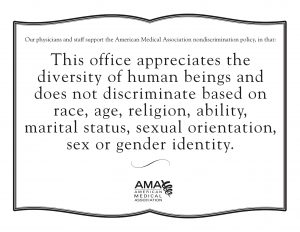 Courtesy of the American Medical Association
Avoid clinic names and signs that seem welcoming to only one gender (e.g. Men's Health Center, Women's Health Center)
Ensure patients understand the boundaries of confidentiality
Educate your staff about LGBTQ issues and make sure there are office policies in place that outline respectful behaviour.
Familiarize yourself with LGBTQ-related terminology; see Terminology
Become comfortable regularly enquiring about gender concerns, however do not pressure the patient. Below are some examples from the Transgender Primary Medical Care: Suggested Guidelines for Clinicians in British Columbia

"Because so many people are impacted by gender issues, I have begun to ask everyone about it. Anything you do say about gender issues will be kept confidential. If this topic isn't relevant to you, tell me and I'll move on."
 "Out of respect for my clients' right to self-identify, I ask all clients what gender pronoun they'd prefer I use for them. What pronoun would you like me to use for you?"
You can ask (after framing the question as mentioned above): "Do you identify as transgender?"
If you use an intake form, asking a question about gender on the form can be a way to encourage disclosure of transgender identity. Some agencies use "Gender: __________", with the blank to be filled in by the patient (this allows the transgender patient to write in a description of identity such as "transgender", "transsexual", "MTF", "androgynous", etc.). Others use "Choose as many as apply: M / F / MTF / FTM / other (please specify)"

Have LGBT signs on the office door or in the waiting room to let patients know it is a welcoming space
Display brochures and educational materials about LGBTQ health concerns or display LGBTQ-specific media, including local or national magazines or newsletters.
Non-gender binary bathrooms: A bathroom with simply the sign "washroom" allows all patients to feel comfortable.
Ask if patients have specific terms that they prefer for specific body parts (e.g. chest instead of breasts or genitals instead of penis/vagina).
Create electronic medical record templates for encounters with transgender patients to ensure that each patient receives the same standard of care.